Delivery Hero Chooses DTEN for Intuitive Video Conferencing and Collaboration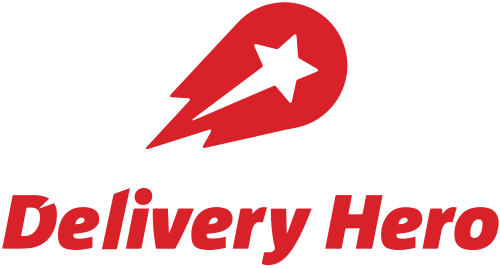 Delivery Hero is a multinational online food-delivery service headquartered in Berlin, Germany operating in over 50 countries around the world. As a global working company, the Delivery Hero team relies heavily on video conferencing to keep hybrid teams connected across many time zones on multiple continents.
Today, Delivery Hero has equipped over 50 rooms in Berlin and facilities around the world with DTEN All-in-One video conferencing solutions.
The Solution at a Glance
Industry: Online food-delivery service
Employees: 43,000+
Areas Served: Worldwide (50+ countries)
DTEN customer since: 2021
Solution Summary: 50+ spaces equipped with DTEN products in Berlin with additional locations throughout the world
Why Delivery Hero Chose DTEN
Simplicity and ease of use
Scalable all-in-one technology
Easy connectivity with other devices (laptops, smartphones)
Out-of-the-box solution that is easy to maintain
Flexible Wi-Fi or Ethernet connectivity
Zoom certified
Seamless Communication and Collaboration Becomes Business Imperative
With over 43,000 employees worldwide, the challenge of supporting a large workforce became a business imperative as Delivery Hero opted for a remote work arrangement in the wake of the initial Covid-19 pandemic in March of 2020. This involved not only video calling, but sharing content, such as presentations, video media and documents, as well as creative brainstorming with sketches and drafts – the way Delivery Hero mostly did only in physical conference rooms prior to going remote.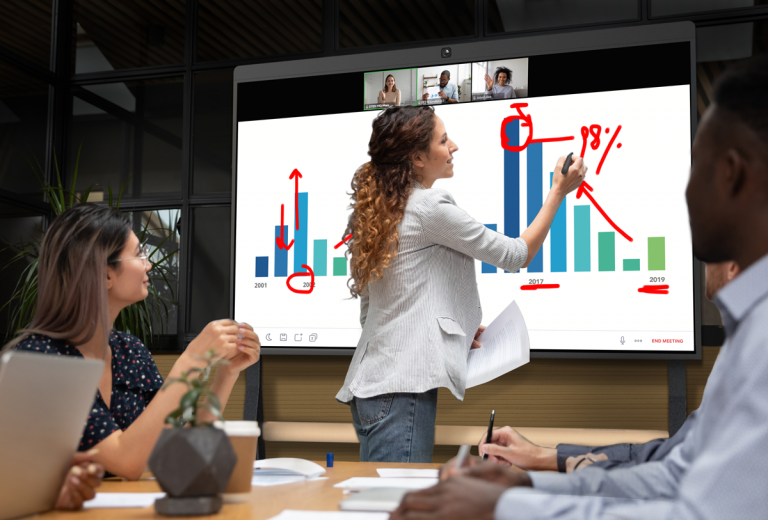 Going into the pandemic, the Delivery Hero team knew that their workforce required a higher standard of audio and video quality. Ultimately, DTEN all-in-one solutions were chosen to meet the complex and multi-layered requirements in one scalable and easy-to-use solution.
What I think is most important is it's scalable and it's an all-in-one device, which means easy maintenance from the IT perspective.

DENNIS ZAHRT, DELIVERY HERO
Dennis Zahrt, IT Operations Manager at Delivery Hero, states, "Delivery Hero is a global working company and we need to connect people. This is what DTEN is designed for – to connect people and work collaboratively together".
Where Scalability and Performance Meets Accessibility and Ease of Use
Delivery Hero decided on three different devices to serve their video conferencing and collaboration requirements: the 55-inch and 75-inch DTEN D7 and the 27-inch DTEN ME. While the DTEN D7s are used in small to large conference rooms for meetings of several people, the desktop-sized DTEN ME finds use in small think tanks, in-office phone booths and in the home offices of remote employees.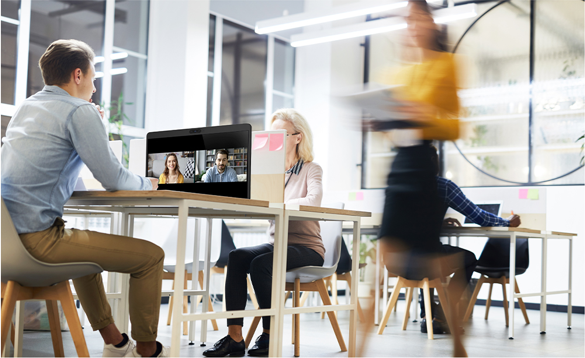 "DTEN provides some things other competitors can't", states Zahrt. "What I think is most important is it's scalable and it's an all-in-one device, which means easy maintenance from the IT perspective".
In particular, DTEN's wide range of built-in features, simplified setup and ease of use devices enabled Delivery Hero teams across continents to connect and collaborate effectively with minimal disruption.
With the whiteboard feature, employees can sketch and graph together without delay, and share content from all devices (laptop, tablet, smartphone) through the wireless screensharing function.
Referencing the simplicity of DTEN's collaboration features, Zahrt explains, "I can just enable the whiteboard now and share with somebody in Singapore, who is in the Zoom call working from home. I can just draw something in real time without any further delay".
Looking Ahead: The Future of Collaboration at Delivery Hero
"We have big plans for a shared future with DTEN. Currently, we are equipping offices all over the world, with an increased focus on dedicated Zoom Rooms. The pandemic is not over yet, and even after it is, we will have colleagues working hybrid from home and office. Video conferencing is therefore more important than ever for us," explains Zahrt.
Martin Bauer, Country Manager DACH at DTEN, adds, "We are proud to have been able to support Delivery Hero with our solutions and to have equipped the company for efficient video conferencing across continents and in the home office. In the future, we look forward to working together to equip more offices with DTEN devices."
DTEN all-in-one video conferencing solutions have succeeded in meeting Delivery Hero's challenges and high demands, helping the company support employees around the world to collaborate more efficiently and effectively. Video conferencing has become an integral part of the company's daily work and IT experts are rarely called in for technical questions, which in turn speaks for the intuitive operation and navigation of the DTEN products.