Zoomtopia 2021: the Imaginarium Give a Glimpse into the Future for DTEN & Zoom Users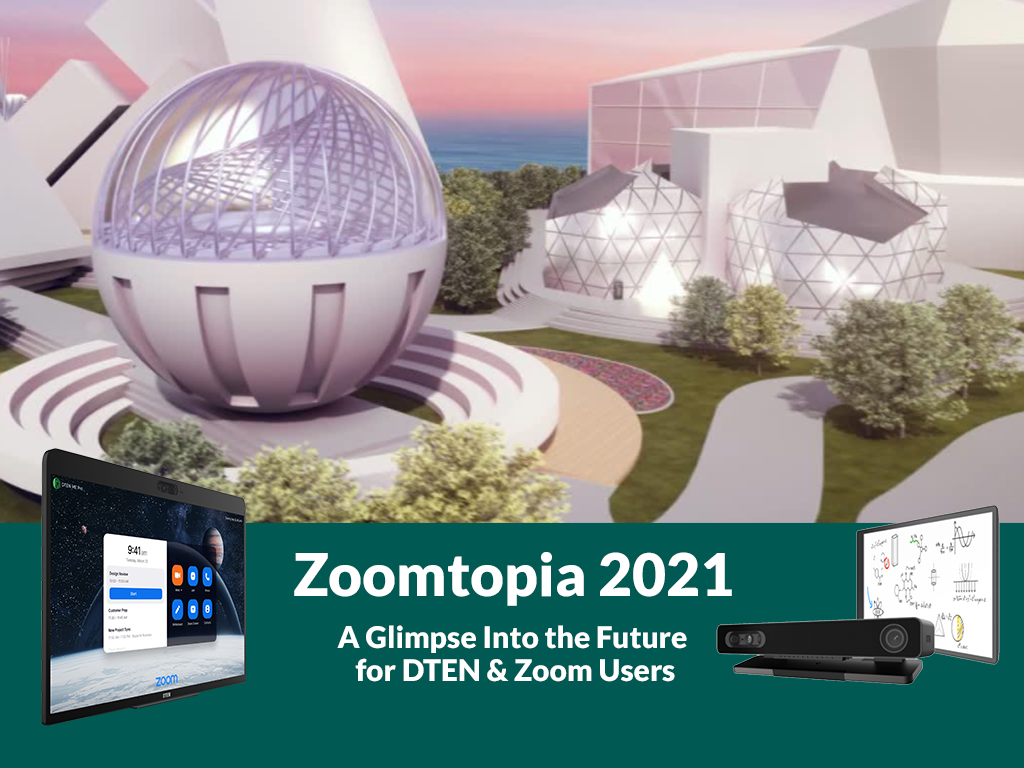 For us at DTEN, Zoomtopia is the premier event that we look forward to all year round. This year's Zoomtopia in particular was so jam-packed with new feature announcements, informative sessions and thought leadership, it will take the next few weeks of watching and re-watching recorded sessions just to take it all in.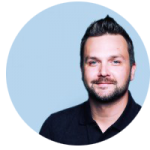 his year's Zoomtopia should leave us all very excited. DTEN is the leader in developing purpose-built hardware for communicating and collaboration in Zoom Rooms for Touch- our solutions will be the first devices to support the new advancements in whiteboarding, video and Zoom Apps. I'm looking forward to joining Zoom in becoming the global leader in Hybrid Work.
– SCOTT KRUECKEBERG, HEAD OF STRATEGIC ALLIANCES, DTEN
Make sure to take a second to check out our Zoomtopia Day 1 Recap Blog where we summarized some of the marquee announcements from the keynote and day 1 sessions.
From Host Jimmy O Yang's hilarious introductions to Roy Choy's ramen cooking tips, stellar performances from Chris Stapleton and Amos Lee, inspiring conversations with Coach K and Jay Shetty, Zoomtopia had something for everyone. But of course, it was Viola Davis' breathtaking closing keynote that should leave us all reconsidering how we define courage in our lives.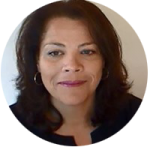 DTEN thanks you for joining us at Zoomtopia '21. I want to personally thank all of our new and existing partners, customers and fans whom discovered DTEN throughout the course of Zoomtopia 2021. Let's keep the conversation going!
– NIA CELESTIN, HEAD OF MARKETING, DTEN
No single blog entry could summarize all the amazing content covered by Zoomtopia 2021, but we'll give a high level overview of the big announcements that are particularly need-to-know to DTEN and Zoom users.
Staying Ahead of Change in a Rapidly Changing World
DTEN's sponsored breakout session, Staying Ahead of Change in a Rapidly Changing World took a departure from the more product-focused sessions to give us a moment for a holistic look at the technology in our lives, more specifically, how changes in technology affect our lives both at home and at work.
This session focused on how to stay ahead of rapidly changing technology in our personal lives and daily work styles; how designing new spaces centered on the user experience will help you stay ahead of the curve; and how technology can be used to leave a lasting positive impact in our lives as we return to our office buildings, classrooms, and hybrid meeting spaces.
New Enhancements to Zoom Whiteboard for Zoom Devices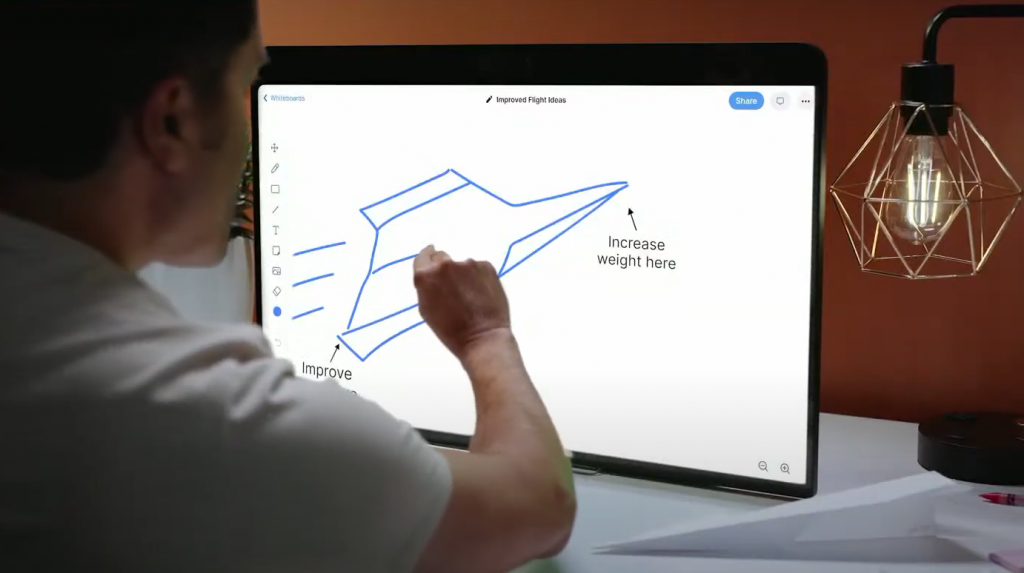 The Zoom whiteboard we all know and love is getting a major update which is sure to forever alter the way in which we experience and interact with our Zoom Rooms for Touch devices altogether:
Whiteboards are now available both inside and outside the meeting
Persistent whiteboards available, before, during and after a meeting so teams can prepare in advance, or pickup right where you left off
Share editable whiteboards with coworkers and partners
Add sticky notes, tag collaborators and open a comments dialogue in the whiteboard interface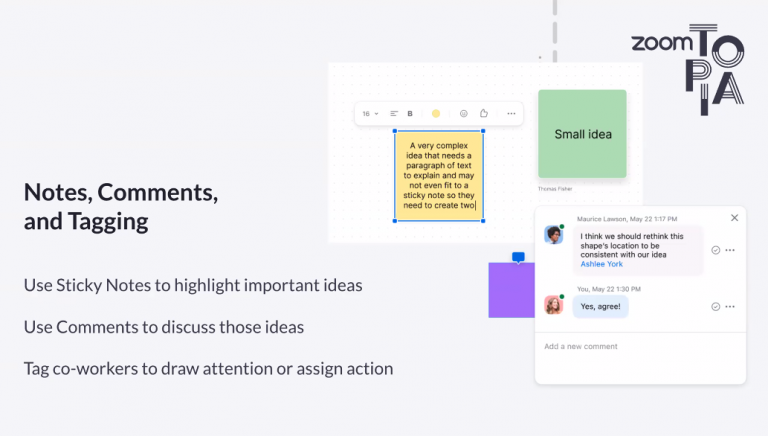 The new Zoom whiteboard is will be available on DTEN devices early next year. Stay tuned for updates.
Zoom Apps are coming to Zoom Appliances
Soon you'll be able to customize the Zoom Rooms experience for greater efficiency and integration with your business systems and workflows. Zoom Apps is poised to introduce the next evolutionary step for the personalized Zoom meeting experience and so far we're only scratching the surface.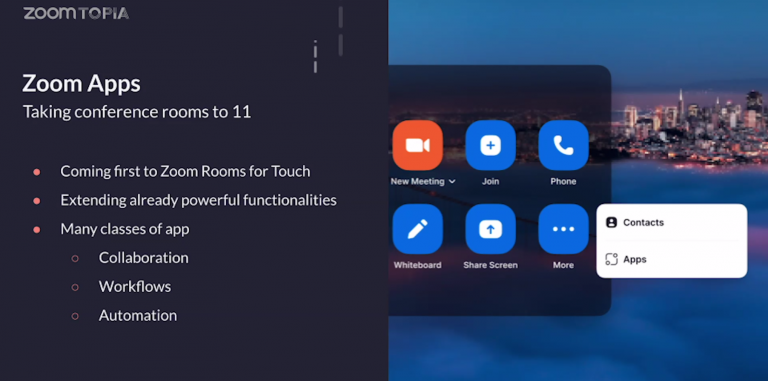 Zoom Apps are coming first to PZR appliances like the DTEN ME Pro, Zoom for Home – DTEN ME and DTEN GO with DTEN Mate with rollout onto Zoom Rooms appliances shortly thereafter.
Hotdesking for Shared Hybrid Workspaces
We can't talk about the new hybrid workplace without addressing a new fixture to flexible offices: hotdesking and hoteling. New enhancements make it easier than ever to find an open desk and sync your Zoom account to an available DTEN ME Pro.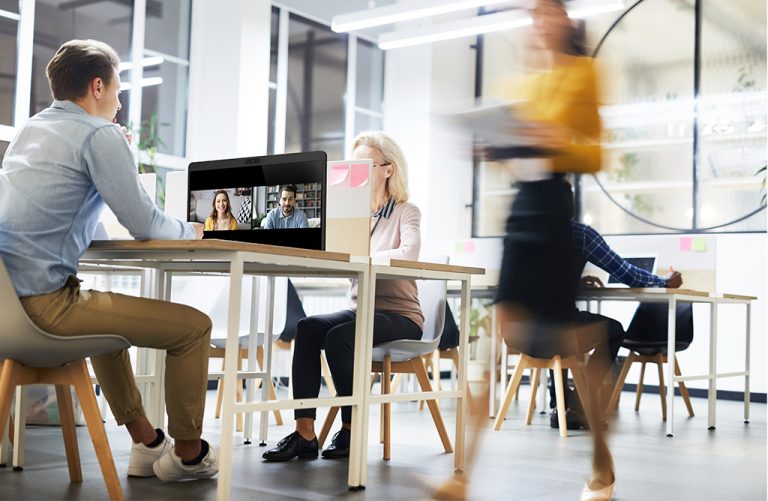 In seconds, you'll have access to the DTEN ME Pro's professional camera, audio and touchscreen systems for a complete collaborative meeting experience.
Today, you can pair to an available device using your mobile device and the device's sharing ID key, but the new hotdesking feature makes this process that much more seamless.
Looking Forward into 2022
Many of the new enhancements announced at this year's Zoomtopia will be available starting on PZR (Personal Zoom Rooms) devices at the start of 2022- that includes the DTEN GO with DTEN Mate, DTEN ME Pro and Zoom for Home – DTEN ME, with support for Zoom Rooms for Touch devices shortly thereafter.
Stay tuned for more information on these new features on the DTEN blog.