Zoom for Home – DTEN ME: Video Conference Just Got Personal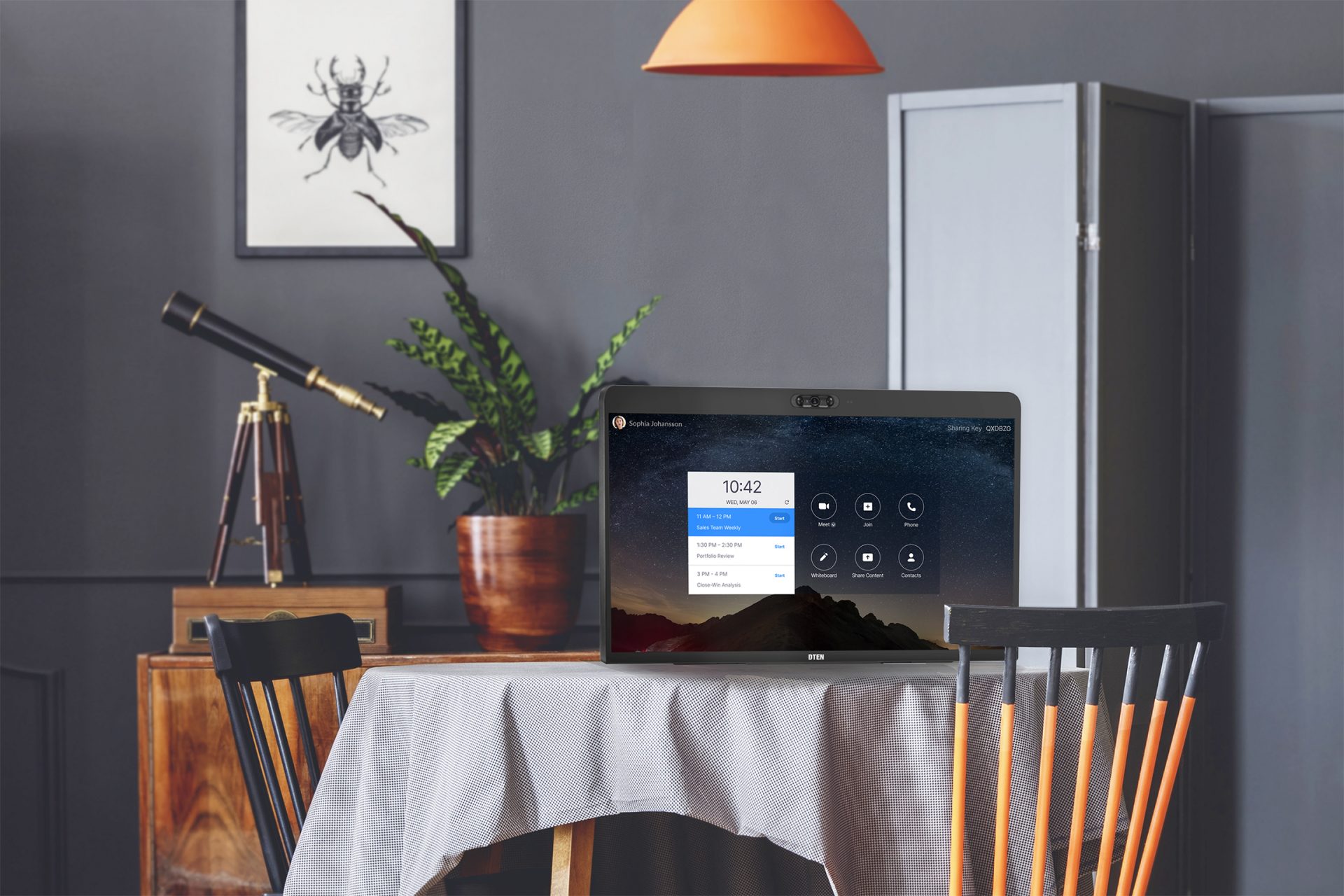 We all miss something about going into the office: keeping a regular schedule, bantering with coworkers, even enjoying the free coffee. Professionally, we may long for in-person interactions, face-to-face collaboration and hands-on problem-solving.
Although we can't help with the free coffee, DTEN has the rest covered. Welcome Zoom for Home – DTEN ME. This video conferencing equipment for home delivers the professional experience you expect in the workplace, now in your home office. 
Built for Your Home Office
The DTEN ME was built for the desktop. At 27", it is ideally sized to fit neatly on your desk. It provides a display size made to see meeting participants and content clearly. It is sleek, streamlined, ultra thin and lightweight for easy portability. Work in your home office, at your dining room table or writing desk in your living room. The DTEN ME can be placed wherever you work and then simply put away if needed.
The multi-touch hyper responsive display keeps up with the speed of your ideas as multiple participants can write and annotate at the same time. Built-in drawing tools make it effortless to illustrate your ideas as inspiration strikes. The DTEN ME will auto-correct hand drawn shapes and lines for clarity as you draw on the whiteboard. Use night mode as needed and save your whiteboard slides to send to teammates after the meeting. This piece of video conferencing equipment for your home combines advanced features with portability to suit the unique needs of your personal workspace.
User Experience at the Core of the Design
User experience was our primary focus: we purposely set out to create a video conference device that rivals in-person meetings. Zoom for Home – DTEN ME features a 27-inch HD touch display, smart 3-camera array, 8-microphone digital array, and quad speakers — all optimized for Zoom.
Our home video conferencing technology lets you bring presentations to life. Annotate and ideate using the easy-touch whiteboard. Make crystal-clear Zoom Phone calls easily. And it even looks good in your office — or dining room table or wherever you work.
We went one step further. We made Zoom for Home – DTEN ME easy to use. It has plug and play set-up, wireless connectivity to WiFi and an intuitive interface. It can even serve as a secondary monitor.
Did I mention affordability? Zoom for Home – DTEN ME is budget friendly for home office set-up, priced at $599 (USD). Available for pre-order now. In the US, shipping August 2020. Available in Europe and APAC countries starting in September 2020.
Zoom for Home also brings enhancements that are available to Zoom users:
Included with Zoom Meetings – Log-in to a Zoom for Home – DTEN ME with a Zoom user account to create immersive instant home video conferencing experiences without additional licenses (Zoom for Home is available with all Zoom Meeting licenses, including Basic).
Always Ready – Easily start ad-hoc or scheduled meetings, take and receive phone calls, and virtually collaborate with content sharing and annotation.
Personalization – Syncs with user's calendar, status, meeting settings and phone for an integrated video-first unified communications experience.
Flexible Management Options – Zoom for Home – DTEN ME devices can be set up to be IT-managed remotely through the Admin Portal or self-managed by the end-user.
Learn more about the Zoom for Home – DTEN ME at www.dten.com/products/me/