5 Simple Hacks for Better Zoom Meetings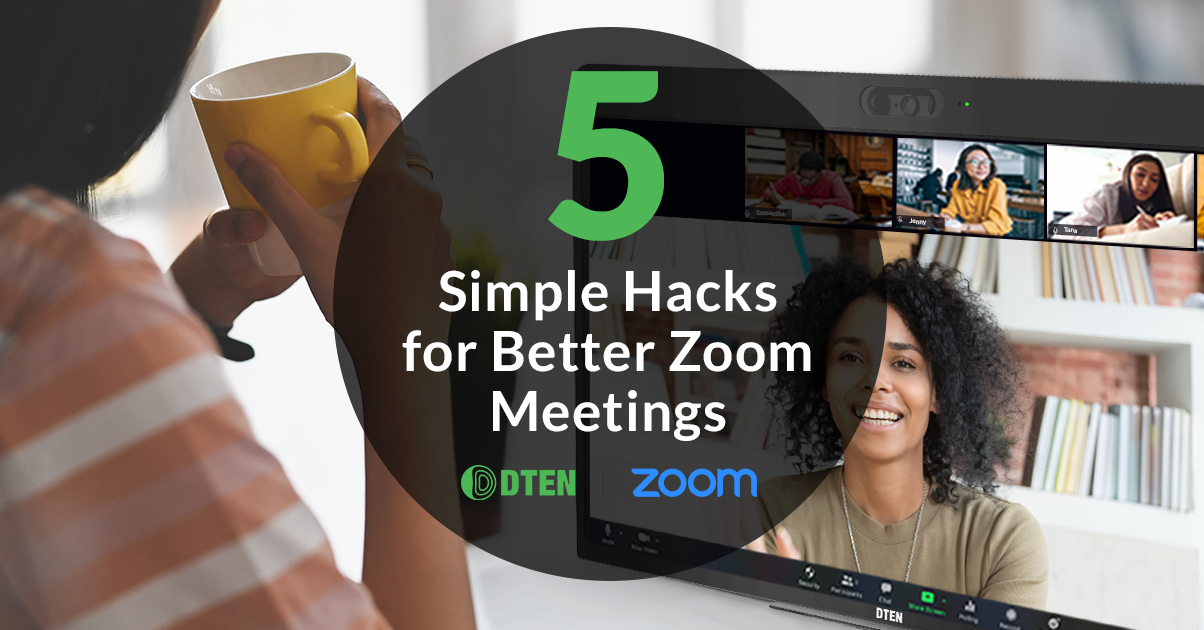 In the last year, we've collectively logged millions of hours on Zoom for professional calls with colleagues and teammates.
Now take a moment to ask yourself what percentage of those hours were used productively and how many of those meetings fell flat.
Now, more than ever, the time and attention of your colleagues and teammates is scarce. With these 5 simple tricks, you can empower your team to become Zoom meeting all-stars, present with confidence and drive the most productive Zoom meetings ever.
1. Come Prepared with Content to Share and Discuss
If a picture is worth a thousand words, a well-prepared presentation deck is worth a million. The presentation deck will help to keep the meeting focused on the agenda and ensure that all important discussion points are addressed in the meeting.
Share the presentation deck with meeting attendees at least an hour before the meeting so that participants can prepare discussion points ahead of time.
Pro Tip: When using a Zoom Rooms device, like the DTEN D7, content can be easily shared from another PC or laptop. Simply use the meeting ID or sharing code for the meeting.
2. Use Zoom's Annotation and Drawing Tools to Illustrate Your Point
Zoom's built-in drawing and annotation tools make it easy to highlight key aspects of shared content, call out errors and help drive screen sharing demonstrations.
Spend some time getting to know Zoom's annotation tools. Beyond the ability to highlight text and draw arrows on a presentation, the interface includes a digital laserpointer, and the ability to add text blocks and stamps above shared media.
Pro Tip: Take your collaboration to the next level with an all-in-one interactive touch-screen display like the DTEN ME. Once you've used an all-in-one touch-enabled device, there's no going back.
3. A Good Microphone Goes a Long Way
Nothing ruins a great meeting like an unreliable microphone. A quiet, choppy, ringing or malfunctioning microphone will distract attendees of the meeting and hinder your ability to be heard clearly.
Additionally, it is considered best microphone etiquette to mute your mic when you are not the active speaker. This will help to eliminate any potential feedback or background noise and will prevent the Zoom meeting from focusing on your camera when not presenting.
A little known Zoom feature is to assign the spacebar to toggle push-to-talk microphone action. Check it out in your Zoom user settings.
Pro Tip: DTEN devices include a cleverly designed microphone arrays that actively optimize pickup for use with Zoom's built-in audio interface DSP. Uplevel your microphone game (and a whole lot more) with the new Zoom for Home – DTEN ME.
4. Eliminate Visual Distractions with Zoom's Virtual Background Feature
Let's face it- most of us don't have the luxury of an actual home office. We've converted corners of our living rooms, dining rooms and bedrooms into makeshift workplace nooks.
With Zoom's virtual background feature, you can appear to get work done from anywhere; be it a chic and modern West Elm livingroom, the International Space Station or even the oval office.
Pro-Tip: Upload your virtual background images using Zoom Device Manager. Once uploaded to your Zoom account, you can easily access these virtual backgrounds from your DTEN ME device meeting settings.
5. Keep Your Meetings Short to Maximize Productivity
As a general best practice, keep your meetings short to maximize focus and limit straying from the topics at hand. Avoid the mid-meeting slump entirely with a short agenda delivered in a tight timeframe.
If you have multiple topics to address with the team, consider breaking the discussion into multiple shorter meetings.
Pro-Tip: Use a wide-angle webcam, like the 160-degree camera of the DTEN ME to produce a fuller image and reduce eye strain for yourself and fellow meeting marathoners.