Why Every Meeting Room Needs a DTEN ONboard Companion Whiteboard and Collaboration Display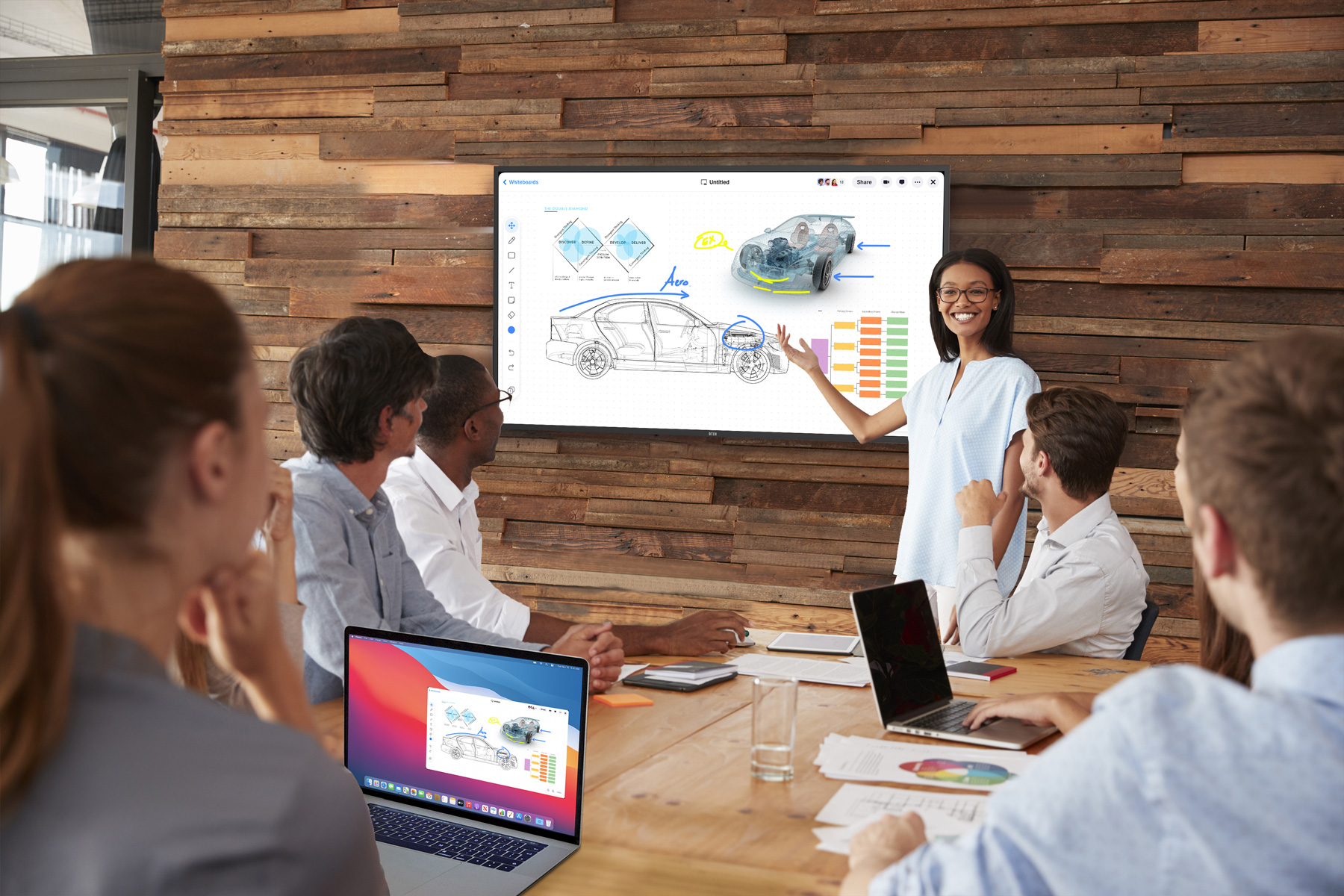 The new DTEN ONboard is a 55" companion whiteboard and collaboration display that can be added to any hybrid Zoom Rooms environment. The ONboard allows customers to launch into a new whiteboard experience, drive dynamic presentations, or continue an existing collaboration session.
Additionally, DTEN ONboard is an optimal solution for Zoom Rooms Workspace Reservation and Digital Signage features.
DTEN ONboard Use Cases: Promoting Collaboration in Any Space
The DTEN ONboard is purpose-built to serve as a companion digital whiteboard added to any existing Zoom Rooms system. If your customer has a video bar in the room, DTEN ONboard is the ideal solution to complete the collaboration experience. It instantly elevates meeting rooms into modern ideation and collaboration space for hybrid work.
It can also be used as a standalone appliance . Users can initiate new whiteboard sessions or continue from an existing session. DTEN ONboard can be the collaboration centerpiece in rooms without video conferencing technology.
Lastly, the DTEN ONboard can be used with Zoom Rooms' kiosk mode as an interactive wayfinding map for workspace reservations and digital signage display.
Challenges with the Hybrid Work Model
Customers have meeting rooms that are already set up with substantial investment in video conferencing equipment, including video bars or multiple component systems and lack collaboration tools to unify the experience.
Remote participants can feel disengaged when they cannot fully participate in the ideation and collaboration that takes place in the meeting when there is no central focal point for engagement.
Simply put, these rooms are missing the most important piece of hybrid work: collaboration equity.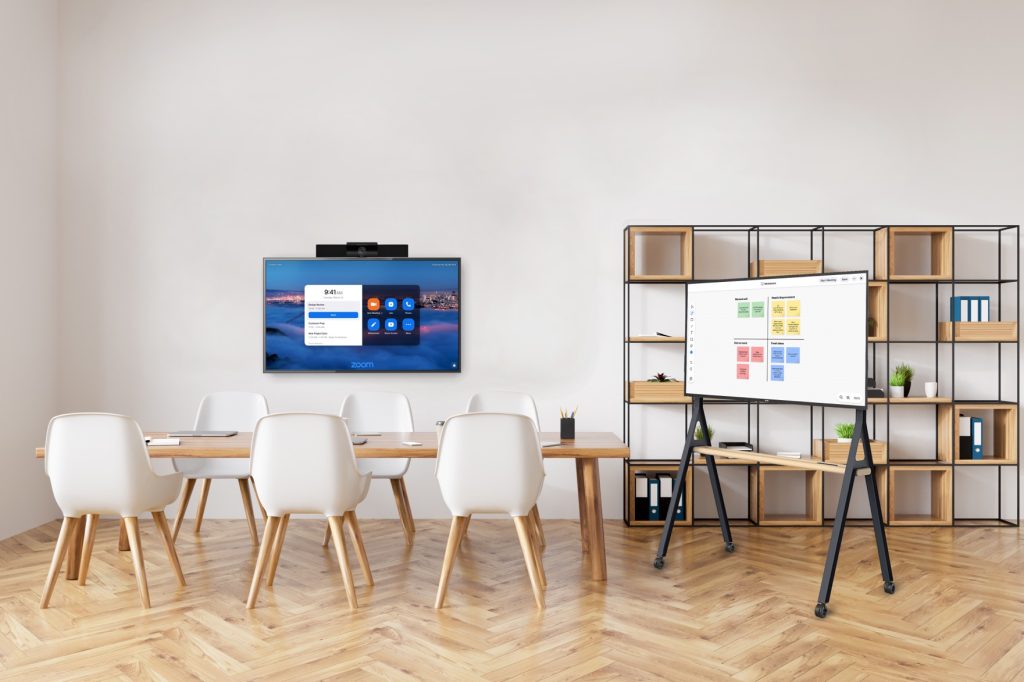 Solving the Collaboration Gap
In previous meetings, participants may have attended video conferences, but didn't have the opportunity to ideate and collaboratively solve problems in a whiteboard environment. When installing a Zoom Rooms system or other UC solution, there may have been a traditional dry-erase whiteboard in the room, mounted on the wall. The DTEN ONboard delivers greater productivity in hybrid meeting spaces that goes far beyond just communicating what has already been done.
The DTEN ONboard puts everyone on the same page with a shared and dynamic canvas for collaboration. It enables both in-room and remote users equal access to the shared whiteboard in real-time, regardless of physical location.
ONboard also adds advanced, interactive touch to legacy meeting rooms inexpensively — and works with any certified Zoom Rooms hardware*. By creating a culture of collaboration, everyone can contribute regardless of where they are, and can express themselves in real time.
With built-in Zoom Rooms collaboration software, leverage the features in Zoom Whiteboard including expandable canvas, drag and drop images, shapes, stickies, but most importantly, the persistent canvas allows hybrid teams to make contributions before, during or after the group meeting session concludes.
What Should DTEN Partners Do Next?
Reach out to your existing Zoom Rooms customers and ask what they are using for their collaboration devices. DTEN ONboard is their ideal companion to any existing Zoom Rooms equipment.
Review your own database for customers who have previously purchased Zoom Rooms, video bars, or any room equipment without whiteboarding. The DTEN ONboard is ready to integrate with any certified Zoom Rooms systems that may already be in place.
Develop an outreach campaign for those customers you believe would benefit from a dedicated whiteboard and collaboration experience to upgrade their existing A/V rooms for hybrid work.
What DTEN Resources Are Available?
On the DTEN Partner Portal partners can access an ONboard Playbook which includes a product video, ONboard Customer Presentation, Solution Brief, Spec Sheet and battlecard. Want to become a DTEN partner? Visit dten.allbound.com to sign up.
Partners can also contact our North America Distributors, TD Synnex or Starin Marketing, or reach out to the DTEN Channel Sales Team at channelhelp@dten.com.
Thanks and happy selling!
*Visit https://zoom.us/hardware to review certified Zoom Rooms devices and systems.
Catch up with the latest on DTEN.com: