DTEN D7X Awarded Best of Show at ISE 2023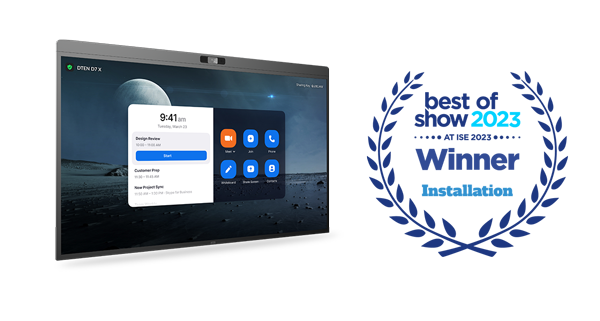 We are pleased to announce that the D7X Multi-platform All-in-One Video Collaboration Solution has won in this year's Best of Show at ISE 2023 awards in the Installation category.
The awards recognize and celebrate the very best products on show at ISE, one of the largest professional AV and technology shows of the year. The D7X was judged based on its feature set, innovation, perceived value and ease of use, following which it was deemed to be a standout within the sector and selected as a winner.
In a public statement from the editorial team at Installation, the jurors stated, "ISE seems to grow in popularity and attendance each year and with that, the competition in our awards becomes even fiercer. This year, we received a record amount of entries which means that those who won should be extremely proud of their achievement – their product showed true innovation and hugely impressed out judging panel. A well-deserved congratulations from the entire awards team".
Why DTEN D7X?
The D7X paves the way for the future of hybrid work with the latest generation video meeting and collaboration technology. Standout features include multi-platform support for native Microsoft Teams and Zoom Rooms meetings software; the latest generation audiovisuals and touch collaboration technology; and powerful BYOD features that make it easy for hybrid teams to launch productive, focused video collaboration sessions.
Take Your Meeting Spaces into the Future.
The AI-powered All-In-One DTEN D7X transforms every meeting room into a modern workspace. Deep learning, AI, enhanced compute capabilities and a set of industry leading innovative features transforms the D7X from a video conferencing device into today's most modern, technologically advanced all-in-one meeting room solution.
The D7X is available in 55″ and 75″, with Windows or Android-based operating systems. Upgrade your meeting spaces today.
The latest additions to the DTEN blog: