Use your Home Video Conference Device like a Boss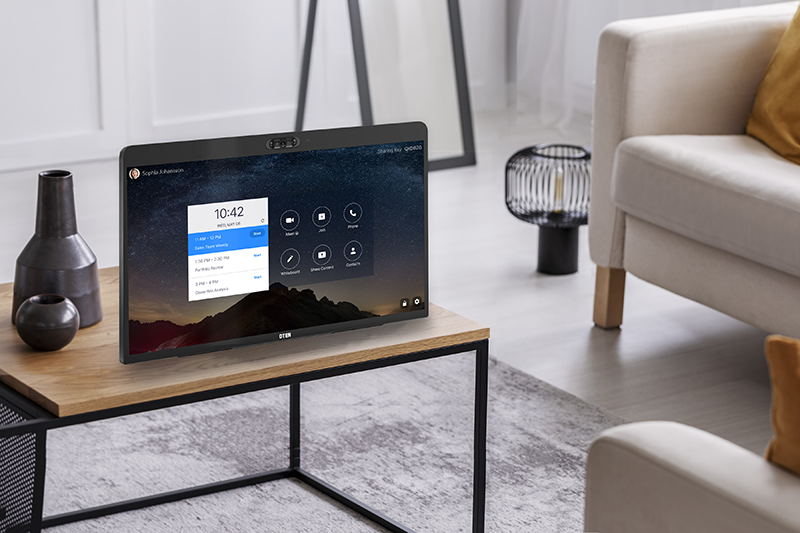 Several months ago we all grappled with working from home. It was kitchy when we caught a colleague in sweatpants. Shoo-ing cats from keyboards was adorable. And all those crazy avatars were fun.
Back then we accepted our make-shift workspaces. We commandeered corners in every room. We overtook guest rooms and dining room tables. Working from home was temporary. We would all head back to the office soon enough.
But as the months went on we built new routines. We learned new respect for the boundaries between work and home. And now we need to transform our home offices into our professional office for work.
My Home Office Make-over
I have been using Zoom for Home – DTEN ME for the past several weeks. It is my home video conferencing device personal collaboration device inclusive of and it combines video conferencing,whiteboard and annotation functions. It has changed how I work and made it possible to video conference like a boss.
Aesthetic Appeal. Maybe the sleek design of Zoom for Home – DTEN ME sounds like a soft benefit. But when your dining room table becomes your desk, something that simply looks great is important. It's a vibe thing.
Right Sized. The ample 27" display ensures I look and present well at Zoom meetings: no hunching over a laptop for me! Yet, when I need to reclaim my dining room table, Zoom for Home – DTEN ME is portable and easy to move.
All-in-One. I work for a company that just launched a game-changing product – I'm busy. I appreciate that Zoom for Home – DTEN ME eliminates unnecessary clutter in my life: it's my video conference camera and microphone, my phone, my ideation whiteboard. When not in meetings I use it as my second, big-screen display.This home video conferencing device isn't a one-trick pony: it works almost as hard as I do.
Just Works. Like most people, I have low tolerance for set-ups that require reading manuals, running wires, managing complex interfaces etc. Never mind I don't have an IT department at home. With Zoom for Home – DTEN ME, I just plugged it in, connected via WIFI, logged in – and I was on to my first meeting.
Fully Personalized. Because Zoom for Home – DTEN ME was specifically designed for Zoom, the integration is seamless. I especially enjoy time-savers that store my personal meeting settings and synch my calendar.
For me, my Zoom for Home – DTEN ME home video conferencing device is a smart investment in hardware – and also in creating a home workspace that is professional, uncluttered and uncomplicated.
If you're looking for a solution that's all-in-one, fits perfectly on your desk and lets you video conference like a boss, head over to DTEN.com and pre-order your DTEN ME today.