Supercharge your Educators with Secure, Best-in-Class Technology and Collaboration Tools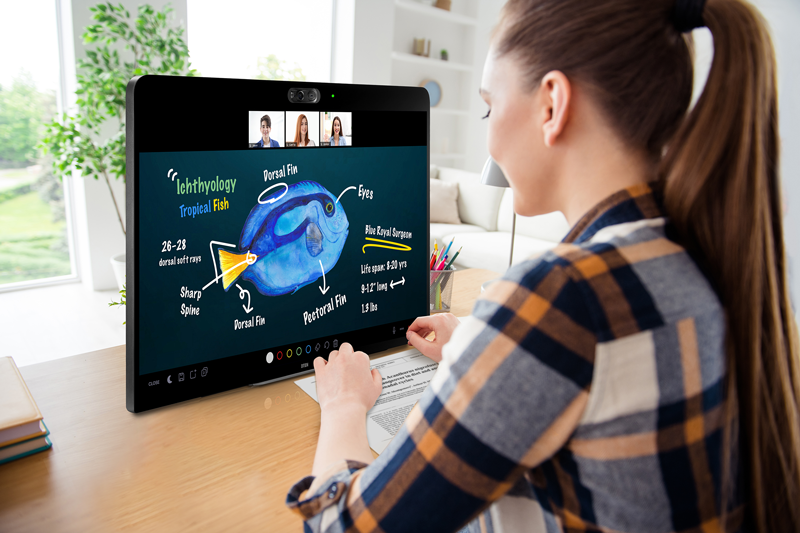 Last week, we presented a special learning track session at Zoom Summer Academy all about how to supercharge educators with Zoom and DTEN. The Academy was designed to address the needs of K-12 educators. Numerous sessions were held to help educators prepare for what the new school year brings for their schools.
The Academy was an incredible opportunity for us to hear from educators. We learned that one of the most pressing concerns is how to configure a hybrid or teacher only classroom. Educators told us they worried about student engagement and participation. We found teachers looking for ways to use technology to achieve better student outcomes. IT administrators were looking for technology to enable teaching in the classroom or from home. In the end, what we heard most often was, how do we do this? Where do we start?
Working with Zoom and listening to teachers, parents and IT we set out to arm educators with DTEN technology. Our solutions are simple to set up and easy to use with powerful teaching tools that create immersive learning environment for students.
Key Takeaways from Zoom Academy
DTEN's mission is to make communication and collaboration technology accessible so everyone can be present anywhere. So I know that I speak for all of us at DTEN when I say that we are so glad we can be to be helpful during these challenging times. Today, more than ever, it is essential that students in or out of a classroom have the ability to connect, communicate and engage with teachers, content, and classmates.
We know that our technology has helped public and private schools as well as universities and colleges meet the demands of supporting student outcomes through remote learning. DTEN can help educators navigate this new school year with effective, affordable, and easy-to-master solutions that foster immersive and engaging classroom experiences.
Additionally, it's worth stating that we're excited to partner with Zoom- a company that cares so much about improving the current state of distance education that they built a free 2-day event to address it.
Q&A from the Learning Track Session
We ended the session with over 100 questions posted in the Q&A. Because we could not answer them all during the live event, I wanted to address a few of them here.
Can you use DTEN with a basic Zoom account or do you need to have a licensed account?
Can you screen cast to it, show YouTube videos, etc.?

It is easy to share content from documents and presentations to videos and live streams by sharing your screen. You can also use whiteboarding and annotation to illustrate ideas and interact with content while in a Zoom Meeting.

Is this technology supported under the CARES Fund act?

YES! Under the CARES act, DTEN Solutions are considered educational technology that aids in regular and substantive educational interaction between students and their classroom instructors.
DTEN is here to help you access funding. Reach out to DTEN at 1.866.936.3836 or send us a note through our contact us page. We get right back to you so you can get started building your virtual classroom right away.

Is DTEN only available in the United States?

DTEN solutions are available all over the world. To get in touch with your local DTEN representative, visit our contact us page.
If you have any additional questions, shoot them over to edu@dten.com, we'd love to hear from you!