Buster Corley:具有业务优势的业务工具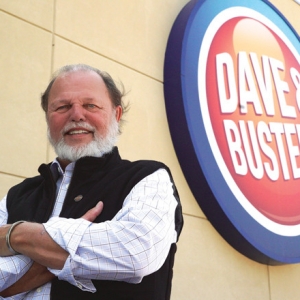 Buster Corley knows about evolving business strategies. As co-founder of Dave & Buster's, the first of its kind creating a new category in the restaurant and entertainment hospitality business, he recognizes the importance of being intuitive about the cutting edge advantage.
"You just know when you've hit on something big. That's what it was like when I got my DTEN. I've used it in communications with multiple participants and more personal one-on-one meetings. The business benefits are huge."
Business is adapting to the demand for changing operating procedures. The search for new ways to communicate and team build while growing a business is challenging industry leaders to create a professional environment outside the traditional office setting.
"It's critical to continue to present yourself professionally, even in video calls when you want to be persuasive or convey ideas and build plans."
The Professional Experience, Right Out Of The Box
Buster believes the performance of DTEN in matching an ease of application to high quality connection is its edge over the competition in the field of video conferencing.
"DTEN comes out of the box, plugs in, and it just works. I now have this broadcast-quality Zoom Rooms video system I feel totally comfortable using."
That gives him the executive level experience he expects for effective business communication he knows is mission critical. The ability for this state-of-the-art technology to preserve and maintain the nuances of interpersonal communication is an asset Buster finds imperative.
"DTEN can be invaluable for executive management. For me, it's almost surgical to see that my message is being understood clearly and concisely and drives faster consensus."
An Absolute Game-changer
The fact that most effective can often translate to more expensive, Buster finds the affordability and accessibility of Zoom for Home DTEN ME the new desktop-sized personal device another game-changer.
"You're getting in a price range for any teacher, any pastor, or any business manger to have the advantage of a personal but totally professional business experience."
The idea that technology is a given, but the concept that cost isn't a barrier is exciting to Buster for its implications to all fields. As a mentor and coach to burgeoning entrepreneurs, he values timing for opportunity. You never know where the next greatest idea might be on the horizon, a fact he knows firsthand. DTEN's accessibility makes that possible for all innovators.
Buster adds, "I need precision. I need authenticity. I need the right platform and it needs to simply work. I need an absolute positive. That's DTEN."