DTEN Shines as Hybrid Work Expert, Unveils Cutting-Edge Video Collaboration Solutions at Annual Zoom User Event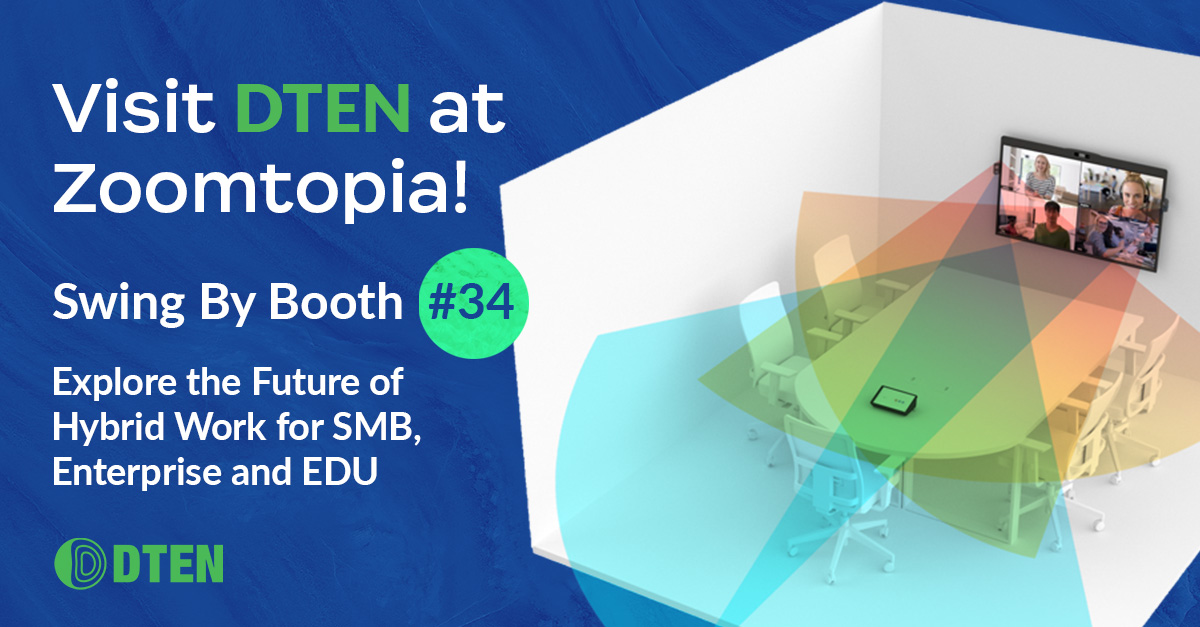 DTEN to Showcase Cutting-Edge Hybrid Work Solutions at Zoomtopia 2023
SAN JOSE, Calif. – DTEN, a leading provider of video-first, touch-enabled conferencing solutions, is proud to announce its participation as a 2023 Global Premier Sponsor, exhibitor, and session presenter at Zoomtopia. The event, scheduled for October 3-4, 2023, will offer both in-person and virtual experiences, making it accessible to a global audience.
Nia Celestin, Head of Marketing at DTEN, stated, "DTEN devices deliver remarkable Zoom experiences. At Zoomtopia, IT professionals and users can see our advanced, award-winning collaboration solutions firsthand. Zoomtopia provides an opportunity to directly interact with our well-engineered, elegantly designed devices."
DTEN will demonstrate its latest collaboration innovations, including the use of Zoom Whiteboard and DTEN D7X to enhance ideation, DTEN Mate for convenient meeting control and scheduling, DTEN D7X Dual 75″ with DTEN Vue Pro for meeting clarity and inclusivity and new InclusiView feature on DTEN ME Pro for more equitable meeting experiences.
At Zoomtopia 2023, DTEN will showcase its commitment to redefining collaboration and productivity in the hybrid workplace. Highlights of DTEN's presence at the event include:
Product Demonstrations: Attendees will have the opportunity to experience the groundbreaking DTEN D7X Series with DTEN Vue Pro. This all-in-one, AI-powered solution offers comprehensive video, sound, and whiteboard capabilities, empowering users with a powerful collaboration tool. Both Windows and Android versions will be available for demonstration.
Innovative Collaboration Solutions: Hybrid Workplace Solutions: Discover how DTEN devices can be leveraged for workspace reservations, virtual reception, and hot desking, enabling organizations to adapt to the evolving needs of the hybrid workplace.
Sneak Peek: Get an exclusive preview of DTEN's upcoming breakthrough innovation, promising to redefine the way people connect and collaborate.
In addition to the product showcases and demonstrations, DTEN team members will lead two informative sessions at Zoomtopia and participate as a panelist in a Zoom hosted session.:
Future of Work: Top 5 Methods for Boosting Productivity and Engagement in the Hybrid Workplace: Co-presented by Nia Celestin, Head of Marketing at DTEN, and Scott Kreukeberg, Head of Strategic Alliances at DTEN. This session will take place on Tuesday, October 3, at 12:15 pm PT at the Expo in Core -Theater A.
It Has to Just Work: How to Flatten the Technology Adoption Curve in the New Hybrid Office and Blended Learning Environments: Also co-presented by Celestin and Krueckeberg, this session is scheduled for Wednesday, October 4, at 10:30 am PT at Theater 3, Ballroom 210.
Shaping the Future Workspace Experience for Employees. Celestin will appear as a panelist for this Zoom hosted session scheduled for Wednesday, Oct 4, at 2pm PT at Theater 3, Ballroom 210.
Zoomtopia will be held in-person in San Jose, California, and will also be available virtually throughout the Americas. To register for the event, please visit Zoomtopia Registration.
Check Out the Latest Additions to the DTEN Blog: